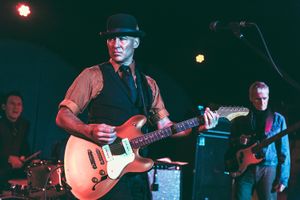 The perfumed sweat between a great set of cans at a topless bar on the bayou.
The hopeless clink of a Jack Daniels bottle hitting your front teeth.
The sweet, luscious smoke filling your lungs – or what's left of 'em – 
on the heels of your last blackout.

What time is it? 6:00 am? This ain't the start of a new day. 
It's just the end of another night.
 
Welcome to the dark and glittering world of Ten Ton Man. Like a well-worn snakeskin jacket, the gritty Americana of this neo-noir three-piece wraps you in danger like a David Lynch movie and never lets you go. With a world-weary baritone and a hollow body electric that's garnered him comparisons to Johnny Cash, Nick Cave and Leonard Cohen, founding member Paul Livornese slyly weaves his gin-soaked tales of lust, loss and regret over Paul Dugan's brooding upright bass and the greasy chug of Paul Triff's drums.
 
It was death that led to the birth of Ten Ton Man. After burying his father, Livornese got to thinking: Life is short, and you might as well get your money's worth before the ride's over. A Brooklyn-born visual artist who'd done time as a guitarist in a handful of New York bands since the early 80s, Livornese graduated from sideman to singer at a Lower East Side dive bar on the eve of his fiftieth birthday. "It was one of those life-changing moments," explains Livornese. "I was hanging out with the guitarist from the Misfits, Bobby Steele. He handed me his guitar, which just happened to be tuned down. And that just happened to be perfect for my voice."
 
Now that he'd seen the light, it was time to embrace the dark. Livornese had written for other singers before, but never for himself. The grimy ballads that poured out of him came from a deep, dark place – just like his voice. "Listening to contemporary music, I couldn't find anything that spoke to me," admits Livornese. "How is some young band going to sing about divorce, their parents dying, or the frustrations of getting older?" Fueled by a sense of his own mortality (and plenty of bourbon), Livornese channeled his age and experience into an unsentimental song cycle that reflected the struggles and defeats of a hardscrabble New Yorker who's seen it all, done it all, and lived to tell the tale – barely.
 
Word got around, and it wasn't long before Livornese found himself with a band on his hands –  and not just any band. "The drummer and bass player I started working with were both named Paul," laughs Livornese. "Not only is that my name, it was my father's name. Kinda spooky, huh?" Drummer Paul Triff brings a lifetime of chops and more than a little empathy to Livornese's cause, while bass player Paul Dugan fleshes out the arrangements with the kinds of stark grooves that he's provided for alt-rock giants like Patti Smith and Jon Spencer. Together, the three Pauls hit on a sound that Commercial Free UK calls "the perfect recipe for Americana." As cinematic and bluesy as a bar fight at a forgotten roadhouse on a lost desert highway, this is the kind of music that the Lizard King himself might be producing today had he not bought the farm in that Paris bathtub 45 years ago.
 
Since forming in 2010, Ten Ton Man has played regularly to growing audiences on New York's Lower East Side and dropped two releases: their eponymously-titled debut album in 2013, and the Chunk of Change EP in 2014. The fall of 2015 will see the release of a new collection of songs, Permission To Sin, along with a series of limited engagements at select New York venues. With an expanded lineup that includes banjo, trumpet, harmonica, and accordion, Permission To Sin is a wry exploration of indecency that occasionally trespasses into Kurt Weill/Bertolt Brecht territory.
 
So if you're in the mood for something sinister, order another round of absinthe and get ready to sink those canines of yours into Ten Ton Man. Heavy shit indeed.